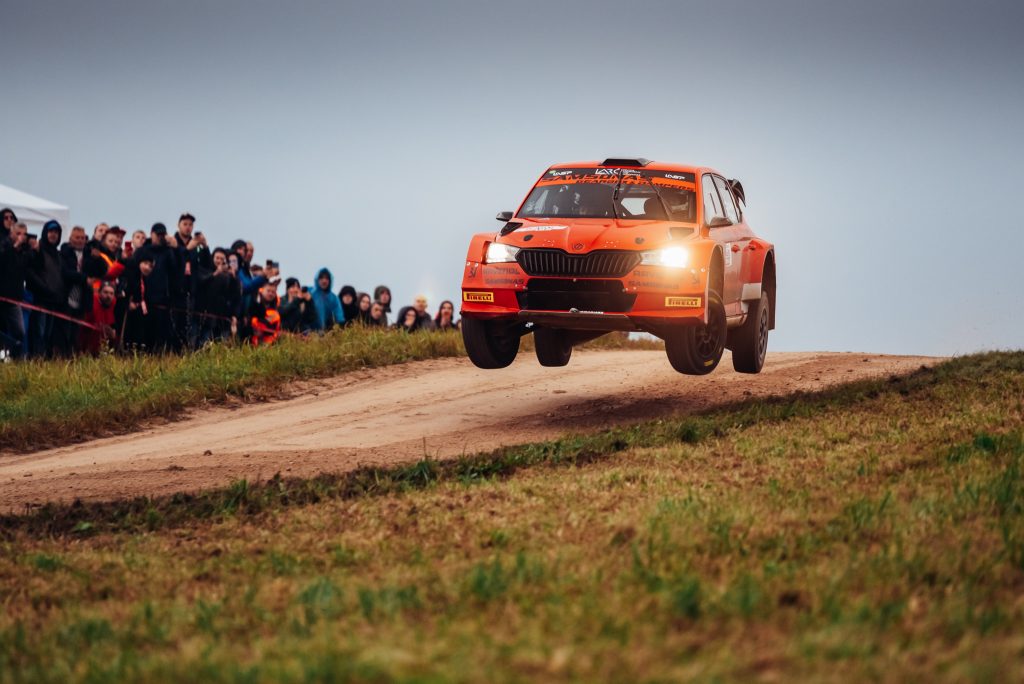 The final event of Lithuanian automobile rally championship "Samsonas Rally Utena" ended on Saturday evening in Utena. Crew from Finland Sami Pajari and Janni Hussi who rode very steadily on both days won here. Guests won 12 out of 15 Special Stages. At that time a real drama was going on behind them accompanied by accidents and incidents that destroyed any advance predictions of rally fans.
After the first day of rally the Finnish crew of Sami Pajari and Janni Hussi who started in Utena in Martynas Samsonas' Škoda Fabia N5+ car took the lead. They had built up a lead of 12.6 seconds. However, on the second day of "Samsonas Rally Utena" Dominykas Butvilas and Renatas Vaitkevičius the pursuers of leaders managed to reduce the gap to 4 seconds.
However, Dominykas Butvilas had an incident in the tenth Special Stage. In one of the turns he went too wide and hit a tree and was forced to stop – the rear wheel of his Škoda Fabia R5 broke with the entire damper. The duo of Justas Tamašauskas and Dovydas Ketvirtis, who raced in a similar car, failed in the same Special Stage. They rolled over and also withdrew from the competition.
Giedrius Notkus and Dalius Strižanas went up to the second place after such rotations, but the leading Sami Pajari was only theoretically ahead of all the rivals. The fight for the second place started between Giedrius Notkus with Dalius Strižanas and Vladas Jurkevičius with Aisvydas Paliukėnas. Both crews drove at a very similar pace and even changed positions in the line-up several times.
However, the turn of events was a bit unexpected – it turned out that Giedrius Notkus incorrectly passed the speed limit zone in the seventh Special Stage and for this he was given a 20-second penalty. A penalty appeared only at the end of the competition what resulted Vladas Jurkevičius rising to the second position surpassing Giedrius Notkus in the final standings by just 2.7 seconds.
Martynas Samsonas and Ervinas Snitkas became the winners in the 2WD category. They beat the crew of Renaldas and Katažina Šeinauskai by almost two minutes. In addition, M.Samsonas and E.Snitkas even reached the fifth place in the absolute ranking of all "Samsonas Rally Utena" participants. Nedas Radišauskas and Jonas Pipiras established themselves in the third position of the 2WD classification.
Crew of Justas Simaškas and Dovydas Rimkus triumphed in the Lithuanian automobile rally sprint championship in the overall standings. They beat the duo of Irmantas and Edvinas Buivydai by 40 seconds. The third result was achieved by Ugnius Terekas with Renaldas Gegužinskas.
In the final stage of the Lithuanian automobile rally championship "Samsonas Rally Utena" participants had to overcome a total of fifteen Special Stages length of approximately 120 km. 106 crews from 9 countries started the competition. The 31 duet did not reach the finish line due to accidents and breakdowns.