THANK YOU ALL FOR PARTICIPATING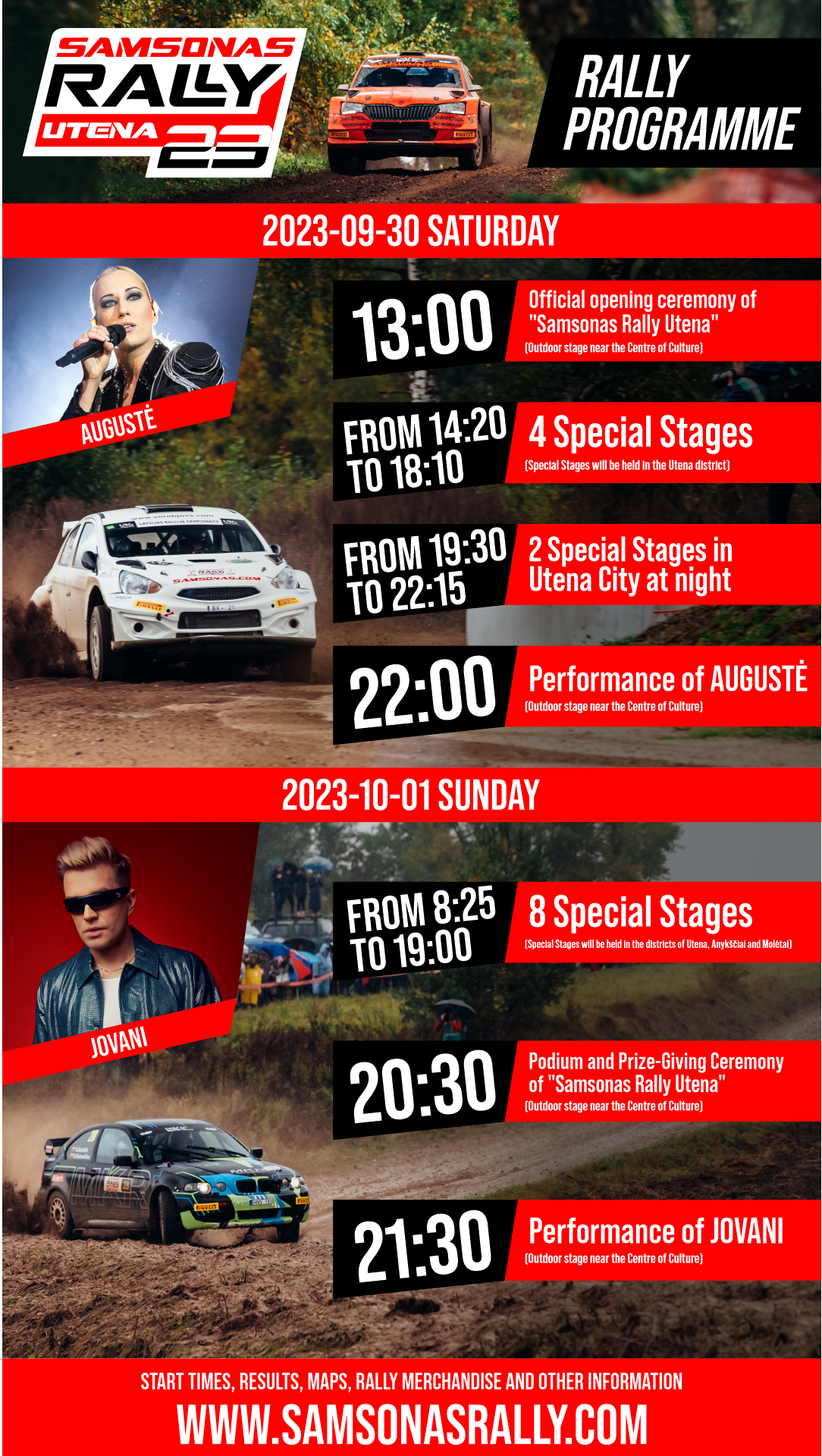 "Samsonas Rally Utena 2023" is not only the final chord of the Lithuanian Rally and Rally Sprint Championship, but also the last stage of the Latvian Rally Championship, so here, in Utena, surrounded by endless rally history, the fate of the future Lithuanian and Latvian champions will be decided. The competition, which will be held on September 30 and October 1, will offer competitors 13 breathtaking special stages in the districts of Utena, Anykščiai and Molėtai, many of which were driven only a decade ago or even earlier. Due to the special landscape of this region, the roads are characterized by their technical nature and an abundance of natural jumps and crests that leave no one indifferent when watching this spectacle of extremely fast cars. In addition, the first day of the rally at Saturday evening will be crowned with a special stage at night through the streets of Utena, where spectators will be able to see the play of night lights, red-hot brake discs and flames from the exhaust pipes. The guests of the event who have come to Utena and the residents of Utena themselves will be pleased not only with an attractive service park, but also with an entertainment program where every spectator will find something interesting. "Samsonas Rally Utena 2023", which was the most numerous last year, will also aim at this title this year, and a group of invited foreign guests will help, so that the competition in "Samsonas Rally Utena 2023" will be maximum.
For most Lithuanian rally fans, the last competition of the championship was associated with the Zarasai region, but after a break of 7 years,
Samsonas Rally returns to the city of Utena. The final competition of the Lithuanian Rally, rally sprint, and Latvian rally championships will take place from 2022 September 30th – to October 1st.
More than 130 SS kilometers, endless fast cars, award ceremony with the concert, prepare  for  special city stages at night (friday), competitors from more than 10 countries, high jumps, and spectator areas in the best places of special stages are just a small part of what you will see during Samsonas Rally Utena. 
Preliminary information and calendar
Date
Event
Additional info
2022-08-31 (Wednesday) 19:00
Publication of Supplementary Regulations
All documents will be available at:
samsonasrally.com
autorally.lt
lasf.lt
2022-08-31 (Friday) 19:00
Opening Date for Entries and Publication of entry List (in order of submission)
Entry form will be available at www.autorally.lt
2022-09-12 (Monday) 18:00
Publication of Rally Guide
Information will be available at:
samsonasrally.com
autorally.lt
2022-09-23 (Friday) 18:00
Closing Date for Entries, ordering additional space in the Service Zone, Shakedown registration
Information will be available at:
samsonasrally.com
autorally.lt
2022-09-25 (Sunday) 19:00
Closing Date for Entries with Increased Entry Fee
Information will be available at:
samsonasrally.com
autorally.lt

SCHEDULE OF THE RALLY WEEK

2022-09-26 (Monday) 18:00
Publication of Provisional Starting List
Information will be available at:
samsonasrally.com
autorally.lt
2022-09-29 (Thursday) 8:00
Opening of Media Centre and Media Accreditation
Aušros str. 47, Utena GPS: 55.5057 25.6012
2022-09-29 (Thursday) 8:00-12:00
Administrative Checks, Road Book and GPS distribution (LARC, LRC)
Location: Aušros str. 47
GPS: 55.5057, 25.6014
2022-09-29 (Thursday) 8:00–20:30
Reconnaissance (LARC, LRC)
2022-09-29 (Thursday) 11:00–20:00
Scrutineering, marking and sealing (LARC, LRC)
Parking lot of Utenis stadium, Utena GPS: 55.5158 25.6105


2022-09-30 (Friday) 8:00–10:00
Administrative Checks, Road Book and GPS distribution (LARSC)
2022-09-30 (Friday) 8:00–10:00
Reconnaissance (LARC, LRC)
2022-09-30 (Friday) 10:00–12:00
Shakedown
2022-09-30 (Friday) 12:50
Publication of Start List Leg 1 Section 1
Official noticeboard, samsonasrally.com,autorally.lt

2022-09-30 (Friday) 13:00
Official rally opening ceremony
Location: Service Zone
2022-09-30 (Friday) 14:00
Start LARC,LRC, LARSC Leg 1 Section 1/TC 0
Location: Service Zone
2022-09-30 (Friday) 19:50
Finish LARC,LRC, LARSC Leg 1
Location: Park Fermé
2022-09-30 (Friday) 22:00
Publication of Start List Leg 2
Official noticeboard, samsonasrally.com,autorally.lt


2022-10-01 (Saturday) 7:45
Scrutineering of Re-starting cars
Location: Park Fermé
2022-10-01 (Saturday) 8:00
Start LARC,LRC, Leg 2
Location: Park Fermé
2022-10-01 (Saturday) 13:00
Start LARSC, Leg 2
Location: Park Fermé
2022-10-01 (Saturday) Preliminary 19:30
LARC,LRC,LARSC Finish
Location: Park Fermé
2022-10-01 (Saturday) 20:15
Publication of Provisional Classification
Official noticeboard, samsonasrally.com,autorally.lt
2022-10-01 (Saturday) 20:45
Publication of Final Classification
Official noticeboard, samsonasrally.com,autorally.lt
2022-10-01 (Saturday) 21:
Podium Ceremony and Prize-Giving
Location: Park Aušros str. 77
GPS: 55.5069, 25.6018