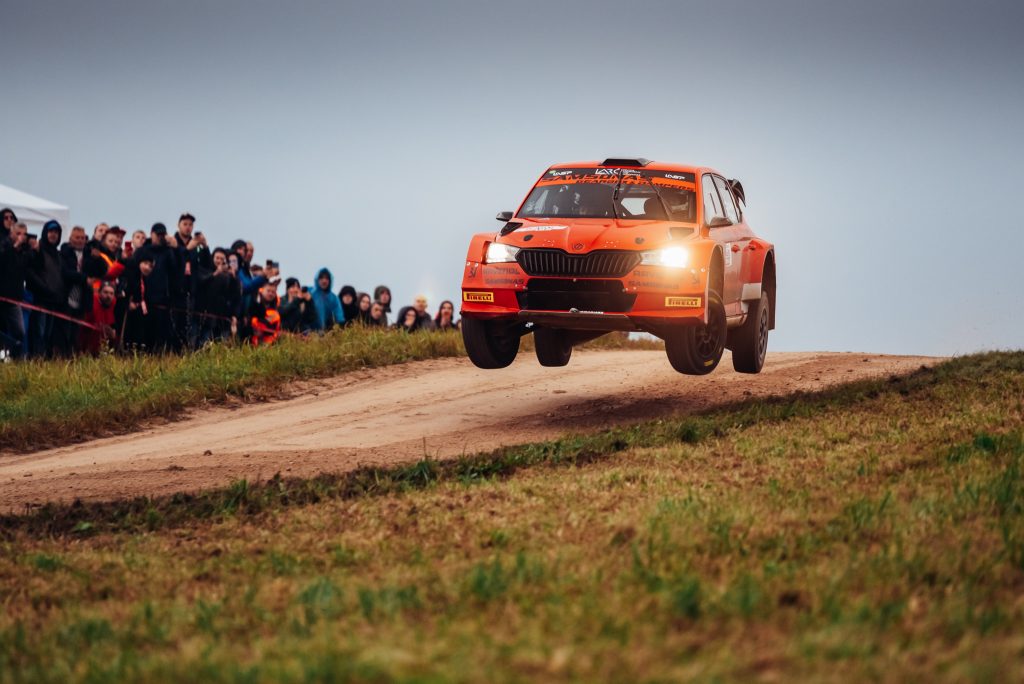 Šeštadienio vakarą Utenoje baigėsi finalinis Lietuvos automobilių ralio čempionato etapas "Samsonas Rally Utena". Čia nugalėjo abi dienas itin stabiliai važiavęs ekipažas iš Suomijos – Sami Pajari ir Janni Hussi. Svečiai laimėjo 12 iš 15 greičio ruožų. Tuo metu jiems už nugaros vyko tikra drama, kurią lydėjo avarijos ir incidentai, sugriovę bet kokias išankstines ralio gerbėjų prognozes.
Po pirmosios ralio dienos į priekį buvo išsiveržęs Suomijos ekipažas – Sami Pajari ir Janni Hussi, kurie Utenoje startavo Martyno Samsono "Škoda Fabia N5+" automobiliu. Jie buvo sukaupę 12,6 sek. pranašumą. Visgi antrąją "Samsonas Rally Utena" dieną lyderių persekiotojams – Dominykui Butvilui ir Renatui Vaitkevičiui pavyko sumažinti atsilikimą iki 4 sek.
Tačiau dešimtame greičio ruože Dominykas Butvilas patyrė incidentą. Viename iš posūkių išvažiavęs per plačiai jis kliudė medį ir buvo priverstas sustoti – su visu amortizatoriumi išlūžo jo "Škoda Fabia R5" galinis ratas. Tame pačiame greičio ruože nesėkmę patyrė analogišku automobiliu lenktyniavęs Justo Tamašausko ir Dovydo Ketvirčio duetas. Jie vertėsi ir taip pat pasitraukė iš varžybų.
Po tokių rokiruočių į antrąją vietą pakilo Giedrius Notkus su Daliumi Strižanu, tačiau lyderiaujantis Sami Pajari visiems varžovams pavejamas jau buvo tik teoriškai. Kova dėl antrosios vietos užsimezgė tarp Giedriaus Notkaus su Daliumi Strižanu ir Vlado Jurkevičiaus bei Aisvydo Paliukėno. Abu ekipažai važiavo itin panašiu tempu ir net keletą kartų rikiuotėje keitėsi pozicijomis.
Visgi atomazga buvo kiek netikėta – paaiškėjo, kad dar septintame greičio ruože Giedrius Notkus neteisingai įveikė greičio gesinimo zoną ir už tai jam buvo paskirta 20 sek. bauda. Tik varžybų pabaigoje rezultatuose atsiradusi nuobauda lėmė, kad Vladas Jurkevičius pakilo į antrą poziciją, Giedrių Notkų galutinėje rikiuotėje pranokdamas vos 2,7 sek.
2WD įskaitoje nugalėtojais tapo Martynas Samsonas su Ervinu Snitku. Jie beveik dviem minutėmis pranoko Renaldo ir Katažinos Šeinauskų ekipažą. Be to M.Samsonas ir E.Snitkas absoliučioje visų "Samsonas Rally Utena" dalyvių rikiuotėje pasiekė net penktą vietą. Trečioje 2WD įskaitos pozicijoje įsitvirtino Nedas Radišauskas ir Jonas Pipiras.
Lietuvos automobilių ralio sprinto čempionate, absoliučioje įskaitoje triumfavo Justo Simaškos ir Dovydo Rimkaus ekipažas. Jie 40 sek. pranoko Irmanto ir Edvino Buivydų duetą. Trečią rezultatą pasiekė Ugnius Terekas su Renaldu Gegužinsku.
Finaliniame Lietuvos automobilių ralio čempionato etape "Samsonas Rally Utena" dalyviams iš viso reikėjo įveikti penkiolika greičio ruožų ir maždaug 120 km greičio ruožais. Varžybose startavo 112 ekipažų iš 9 šalių. Finišo dėl avarijų ir gedimų pasiekti nepavyko 31-am duetui.